Roquebrun'Ailes, club de parapente à Roquebrune
RAPPEL
RESTRICTIONS HORAIRES JUSQU'AU 27 AVRIL
(travaux en semaine)
Du lundi au jeudi inclus :
pas de décollage avant 11 h (travaux avec héliportages à l'atterrissage)
(arrêté municipal n° 181/2018 PDF)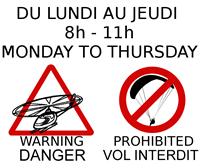 Du 5 au 30 mars, la route du Mont-Agel (accès au décollage par la Turbie) est interdite à la circulation à tous les véhicules et dans les deux sens entre 9 h et 12 h 30 puis entre 13 h et 17 h. Circulation ouverte le week-end.
TIME RESTRICTIONS UNTIL APRIL 27
(work during the week)
Monday-Thursday :
no takeoff before 11 AM (helicopters work on the landing)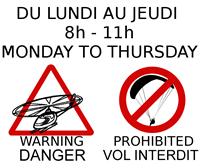 From March 5th to 30th, the Mont-Agel road (access to take-off by La Turbie) is closed to all vehicles and in both directions between 9 am and 12.30 pm and between 1 pm and 5 pm. Traffic open on weekends.
Club enregistré auprès de la FFVL sous le N° 01104 - © copyright: Roquebrun'Ailes 2003-2017
Réalisation